"

About Metalli Sonanti - After bringing to life the project "Terra Sangue Mare," with Fabio Turchetti, the singer Musolino continues her artistic path together with Turchetti to create a new multi-media project: Metalli Sonanti. First debuting in Rome, Italy, in May of 2018, Metalli Sonanti is inspired by the ancestral sounds of Grecian, Roman, Arabian and Byzantine Sicily. Michela's voice weaves both ancient and modern melodies together with Turchetti's playing and compositions to create a thaumaturgy of rare beauty. "
METALLI SONANTI è il nuovo progetto di Michela Musolino alla voce e tamburi a cornice e Fabio Turchetti alla chitarra e organetto. Ispirandosi alle sonorità ancestrali della Sicilia greca, romana, araba e bizantina la voce di Michela intreccia fresche melodie creando di fatto col suo suono un atto taumaturgico di rara bellezza.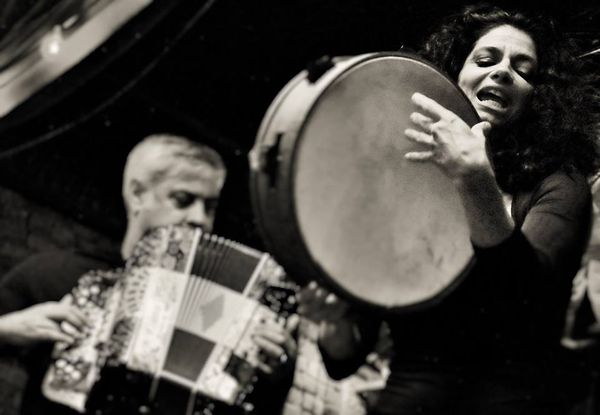 Musolino and Turchetti have performed on both coasts of the USA , in Eastern Europe and throughout Italy. The duo - Musolino, voice and Sicilian frame drum , and Turchetti, on guitar and accordion, perform world music tethered to Sicilian traditions, but open to the contemporary with a texture drawn from jazz and the experimental. Their repertoire spans from songs of Sicilian mariners to original compositions inspired by the folk lore and mythology of Sicily.
Some of Metalli Sonanti's Projects: